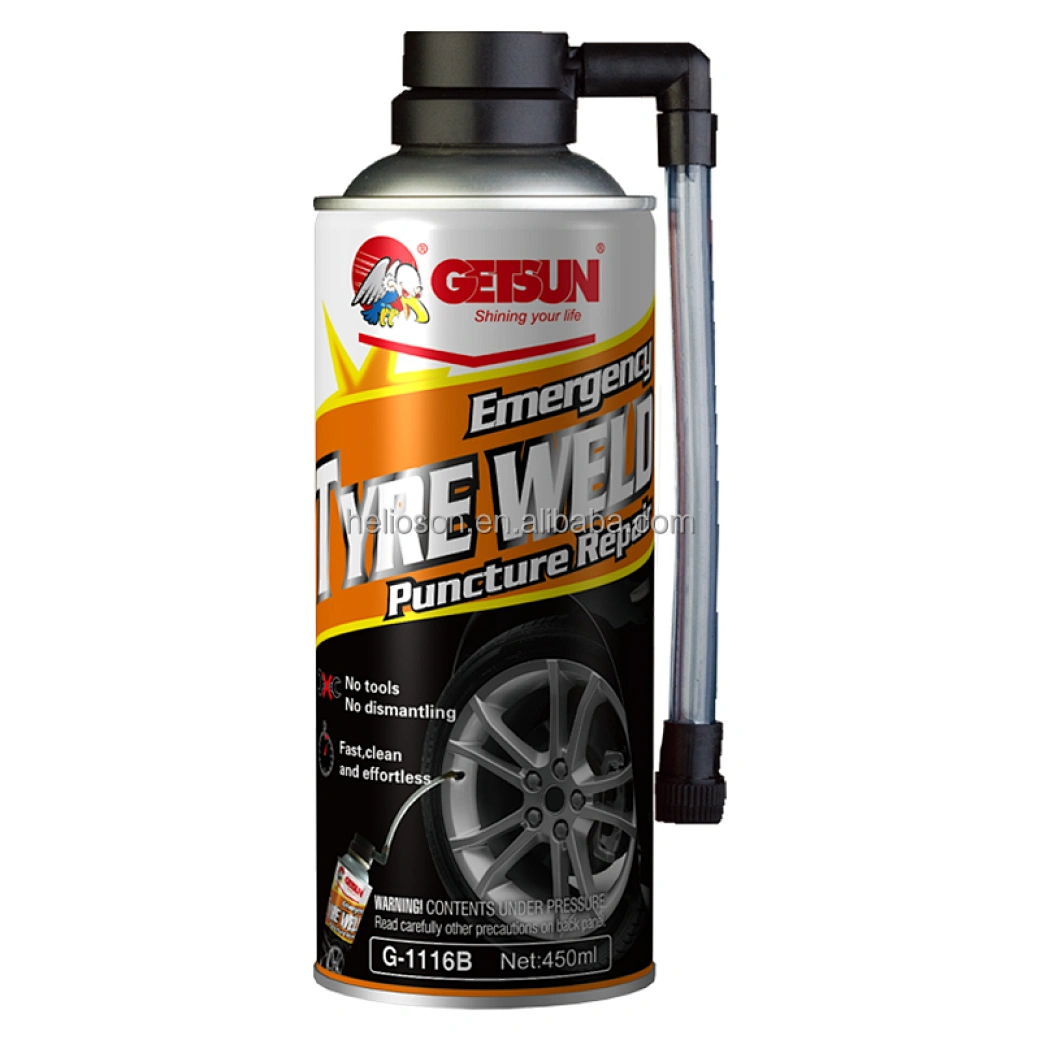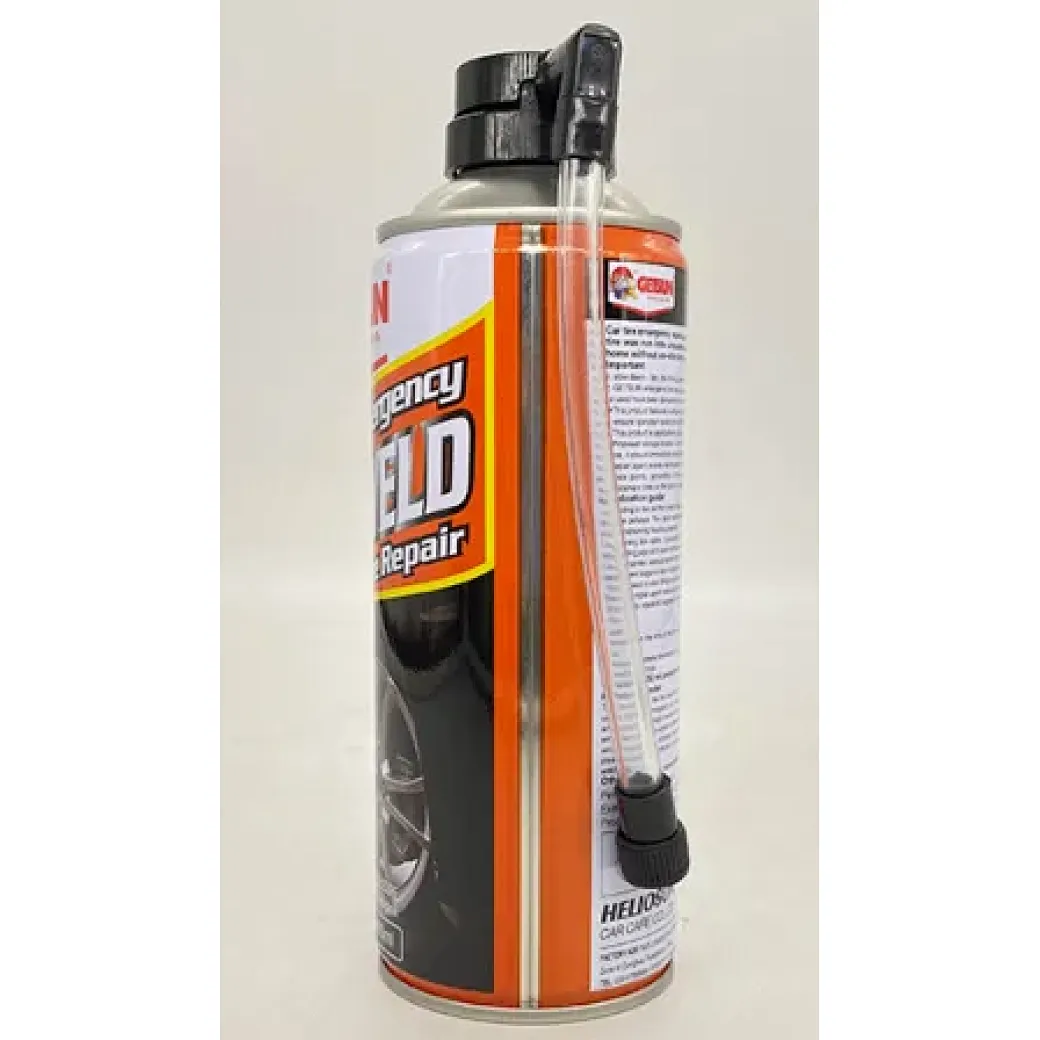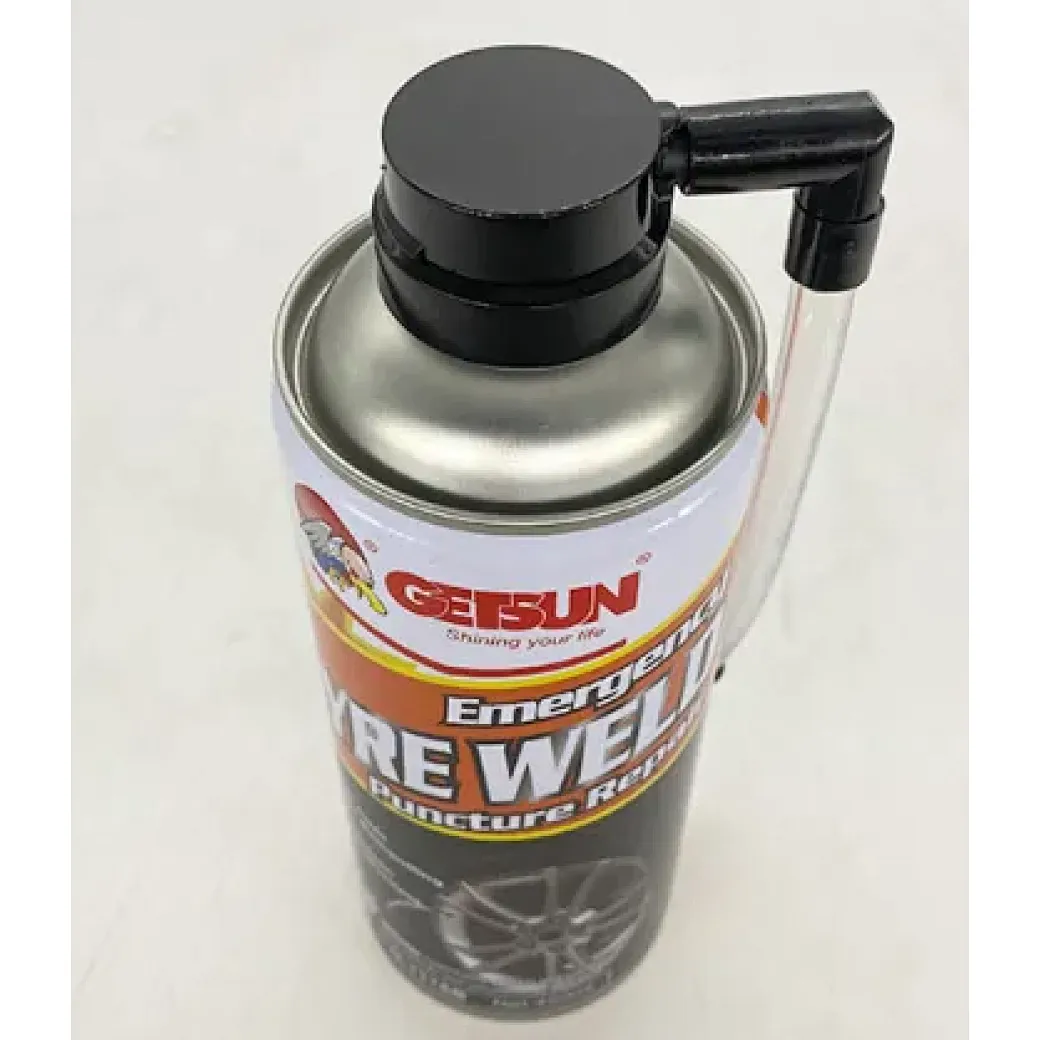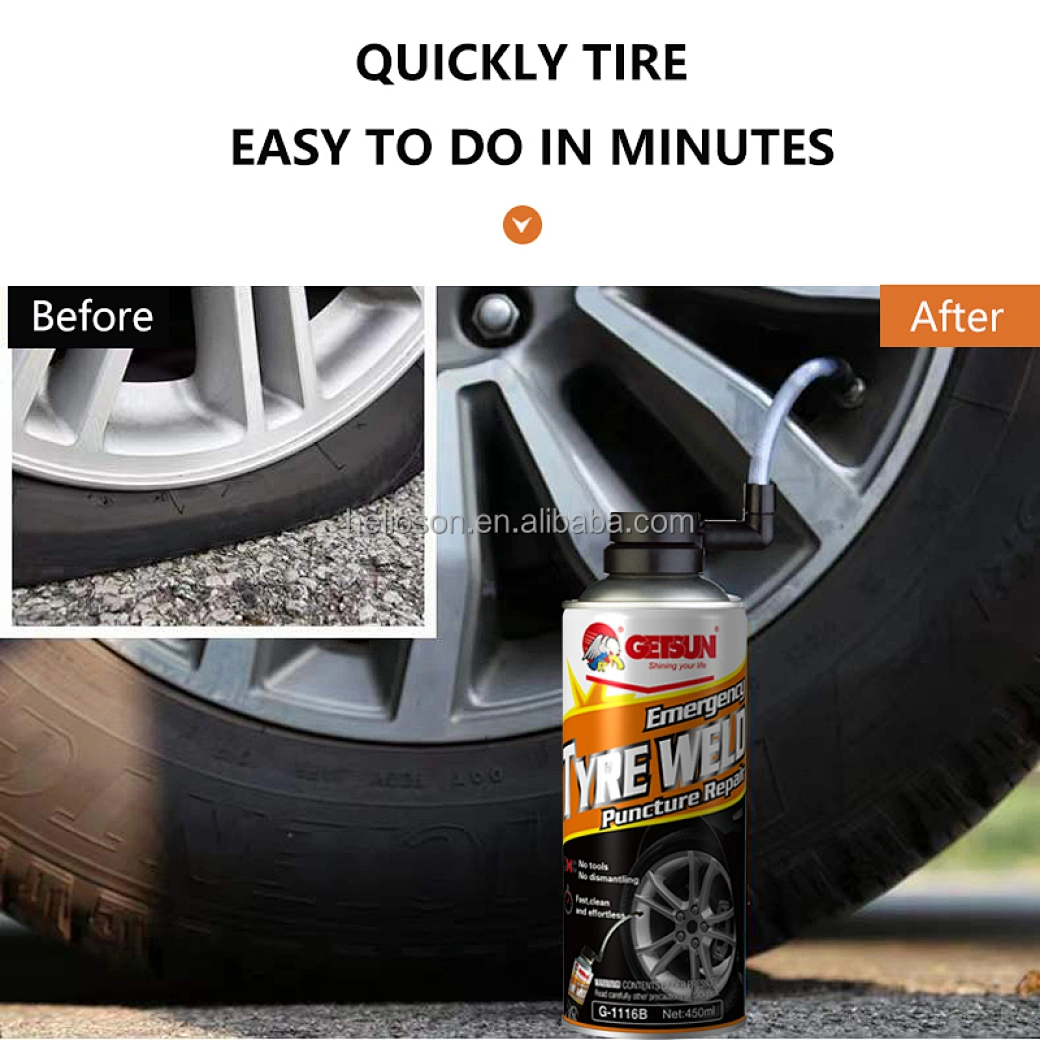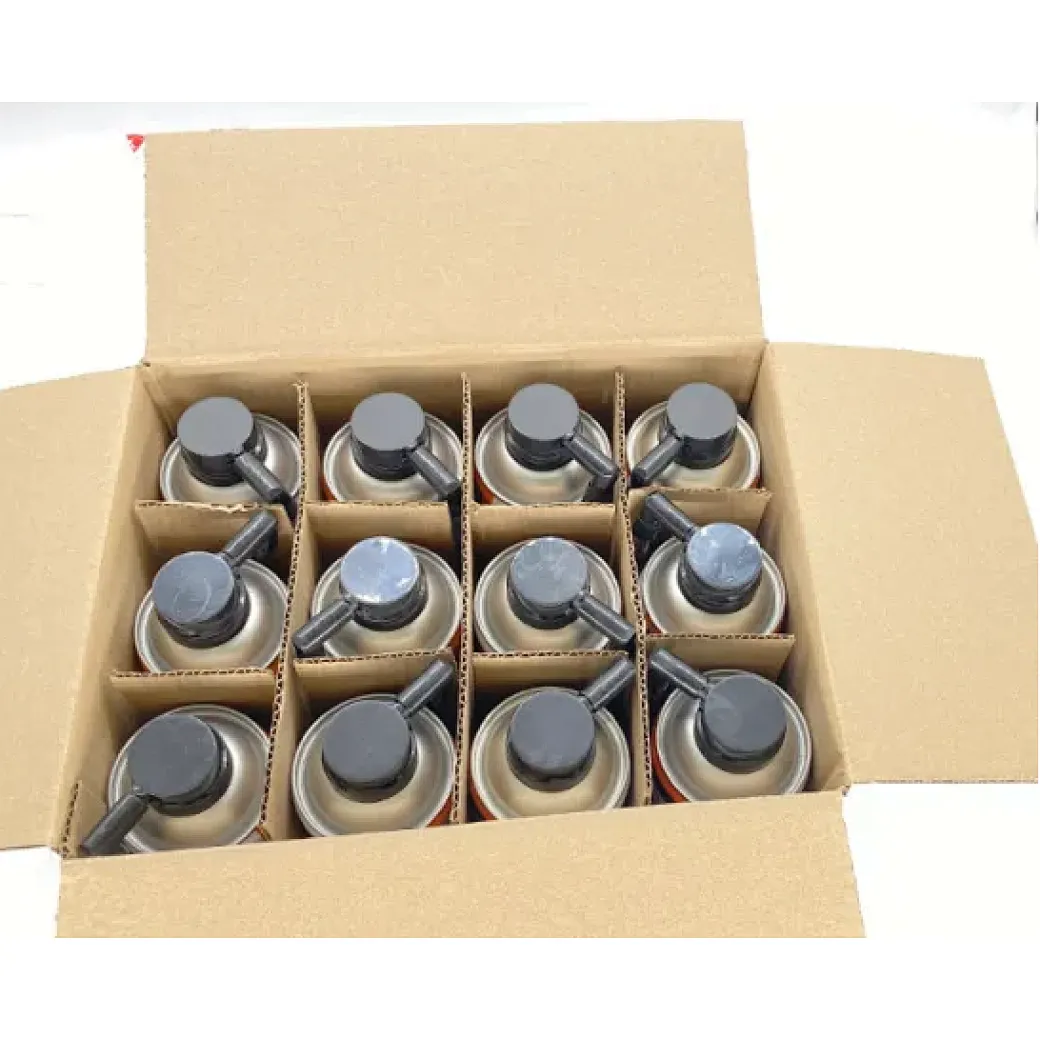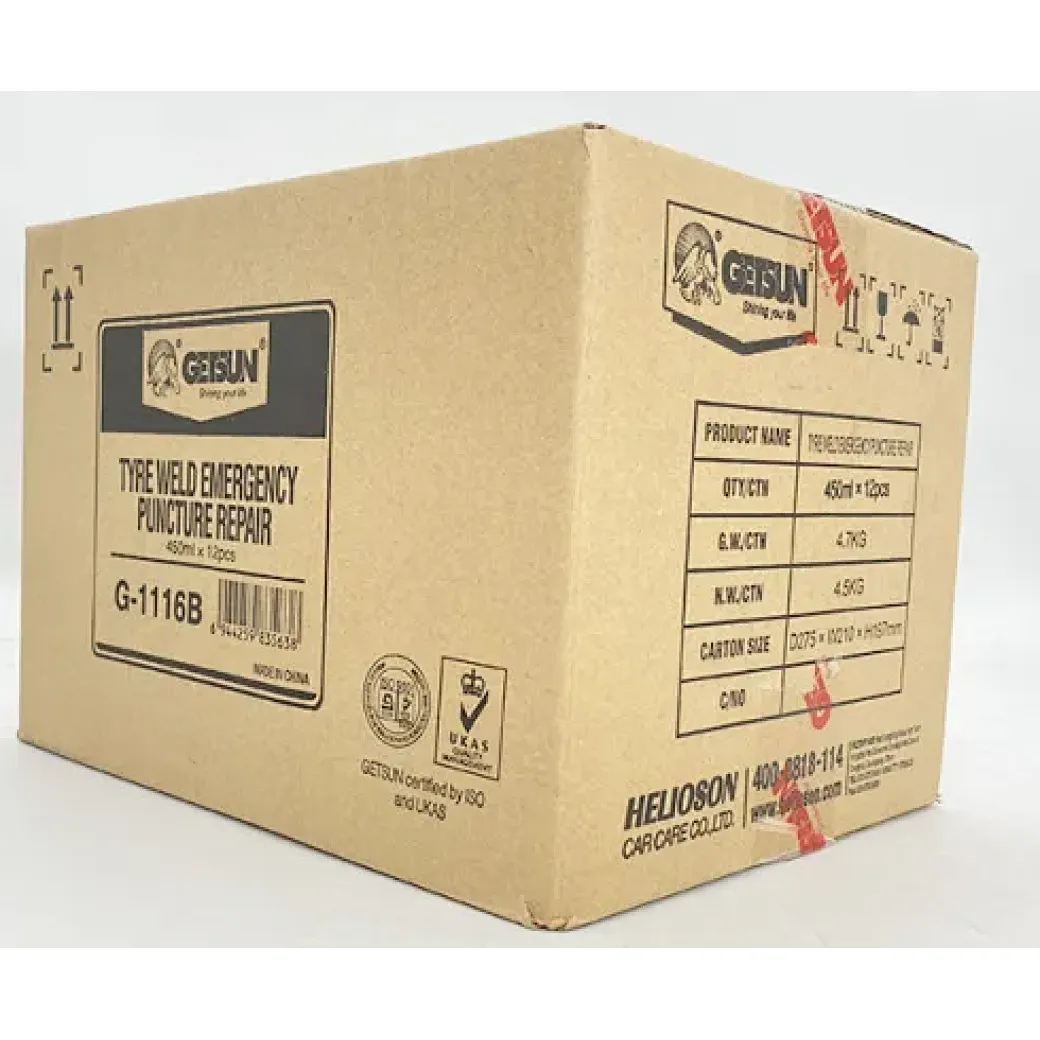 Model No: G-1116B
Getsun Tyre Sealing and Inflating Fix Emergent Solution Tire Crack Repairing
Country of Origin :
Shekou China
Type:Cleaner & Wash
Place of Origin:Guangdong, China
Brand Name:Getsun
Model Number:G-1116B
Weight:368g
Use:Tire Weld
Expiration Date:3 years
Product name:Tyre Sealing and Inflating Fix Emergent Solution Tire Crack Repairing
Function:Puncture Repair
Volume:450ml
MOQ:2400
Material:Liquid
Service:OEM/ODM
Use for:Car Tire
Qty/CTN:24PCS
Payment terms:T/T&L/C
Packing:275*210*197mm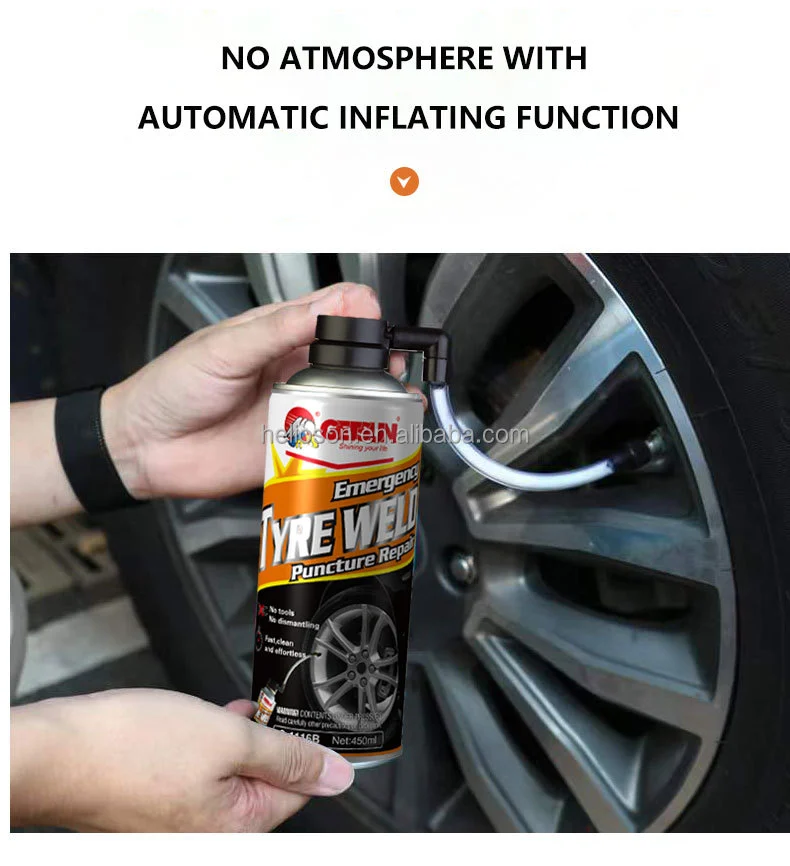 No tools No dismantling Fast, clean and effortless

Car tire emergency repair agent standing a can of GETSUN even peek into the tire was run into unexpected burst, you can also safe,
fast, simple and drove home without on-site tire change. GETSUN only applicable to tubeless tires.
IMPORTANT
1. slow down-tire, the driving speed of not more than 45 km (the driving speed should not be more than 45 km)

2. GETSUN emergency tire repair agent should not be used to repair a large hole or side hole; can not be used have been dismantled
from the rims of the tires.


 The product features a unique automatic filling repair agent can be quickly and effectively into the tires to ensure operation
saves time and effort.

 This product is applicable to all cars.

 Proposed storage location: car trunk.

 Tire, it should immediately start the car, driving under the recommended speed of 10-20km, in order to repair agent evenly
distributed in the tire, filling pressure is gradually released.

Find the nearest car service points, according to the depot manual adjustment of tire pressure.
To the point of tire replacement tires on the failure to replace or repair.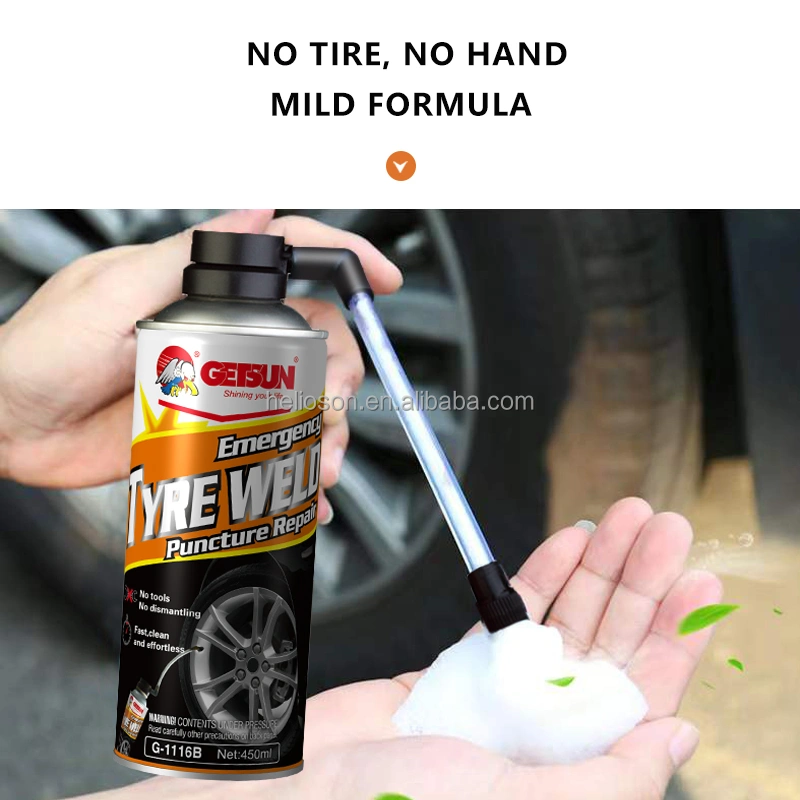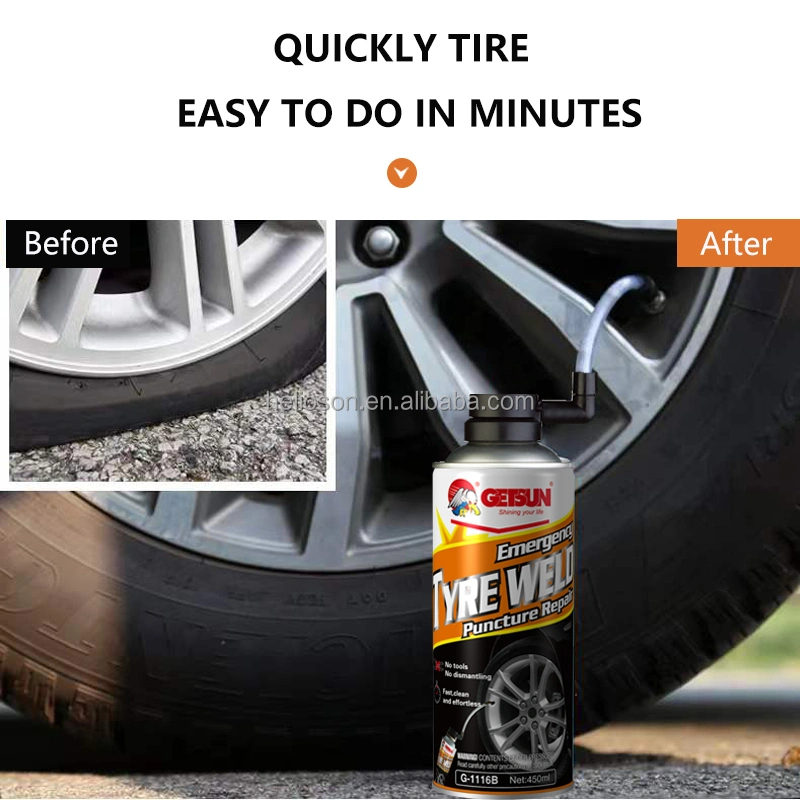 | | |
| --- | --- |
| Product Name | Getsun Tyre Sealing and Inflating Fix Emergent Solution Tire Crack Repairing |
| Packing Specifications | 450ml*12pcs |
| Product Code | G-1116B |
| Net Weight | 368g |
| Expiration Date | 3 Years |
| Service | ODM/OEM |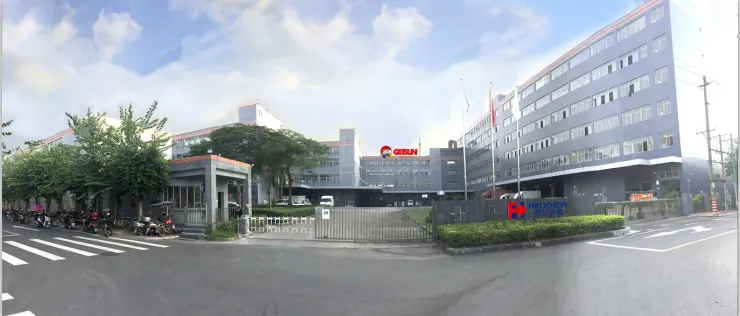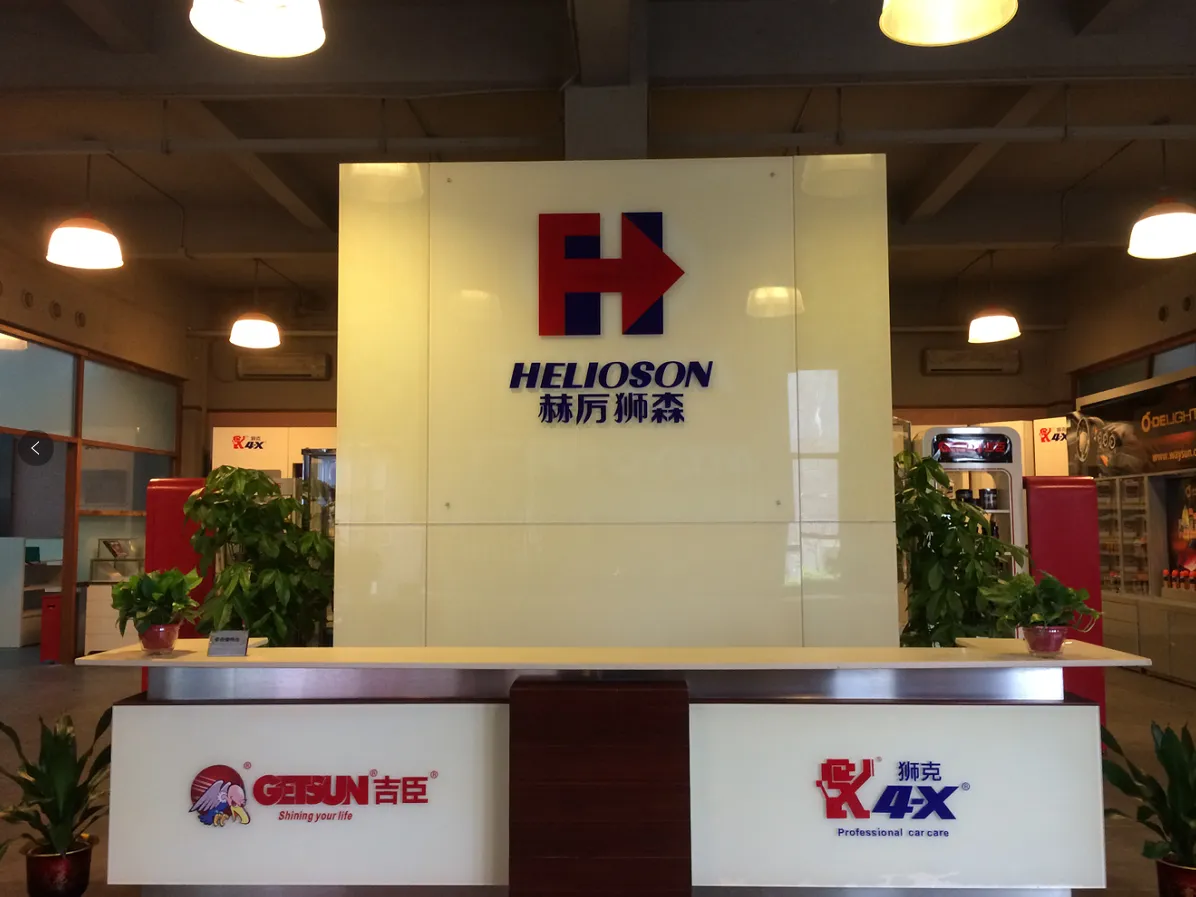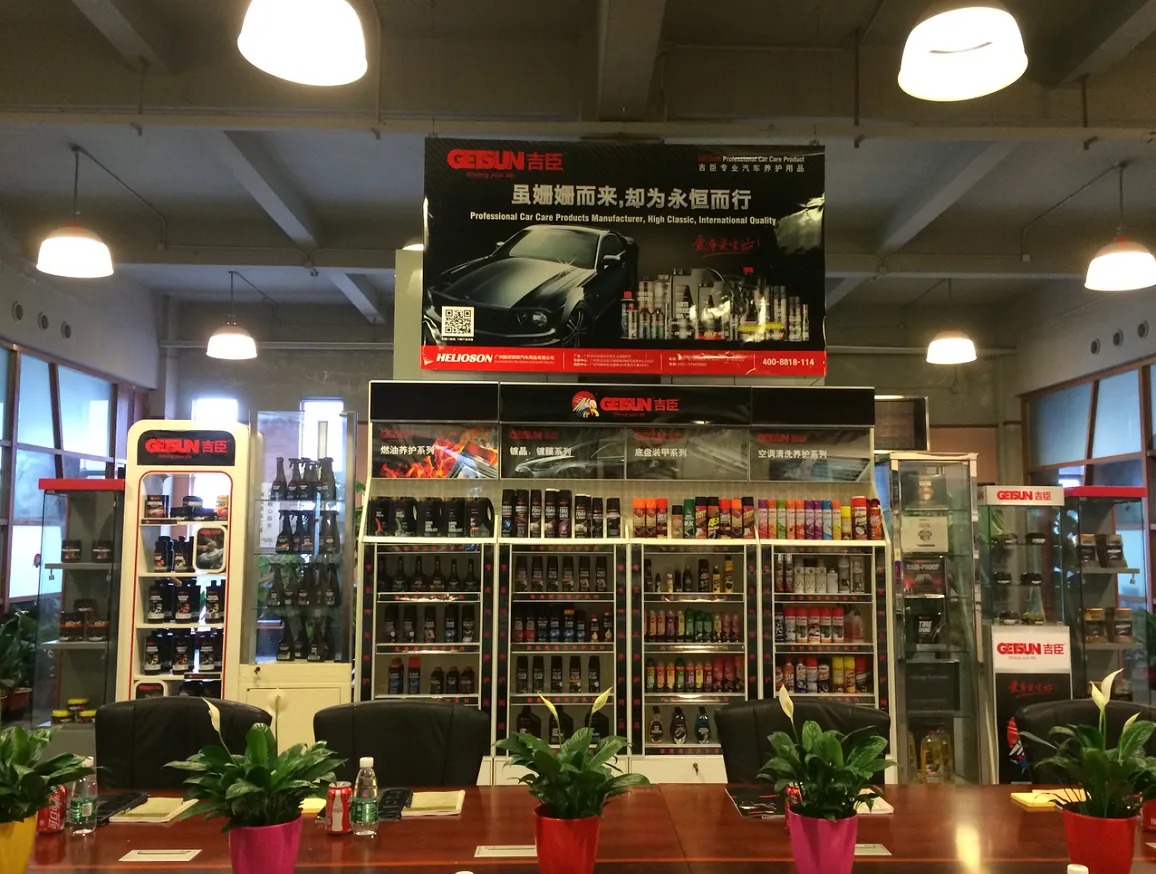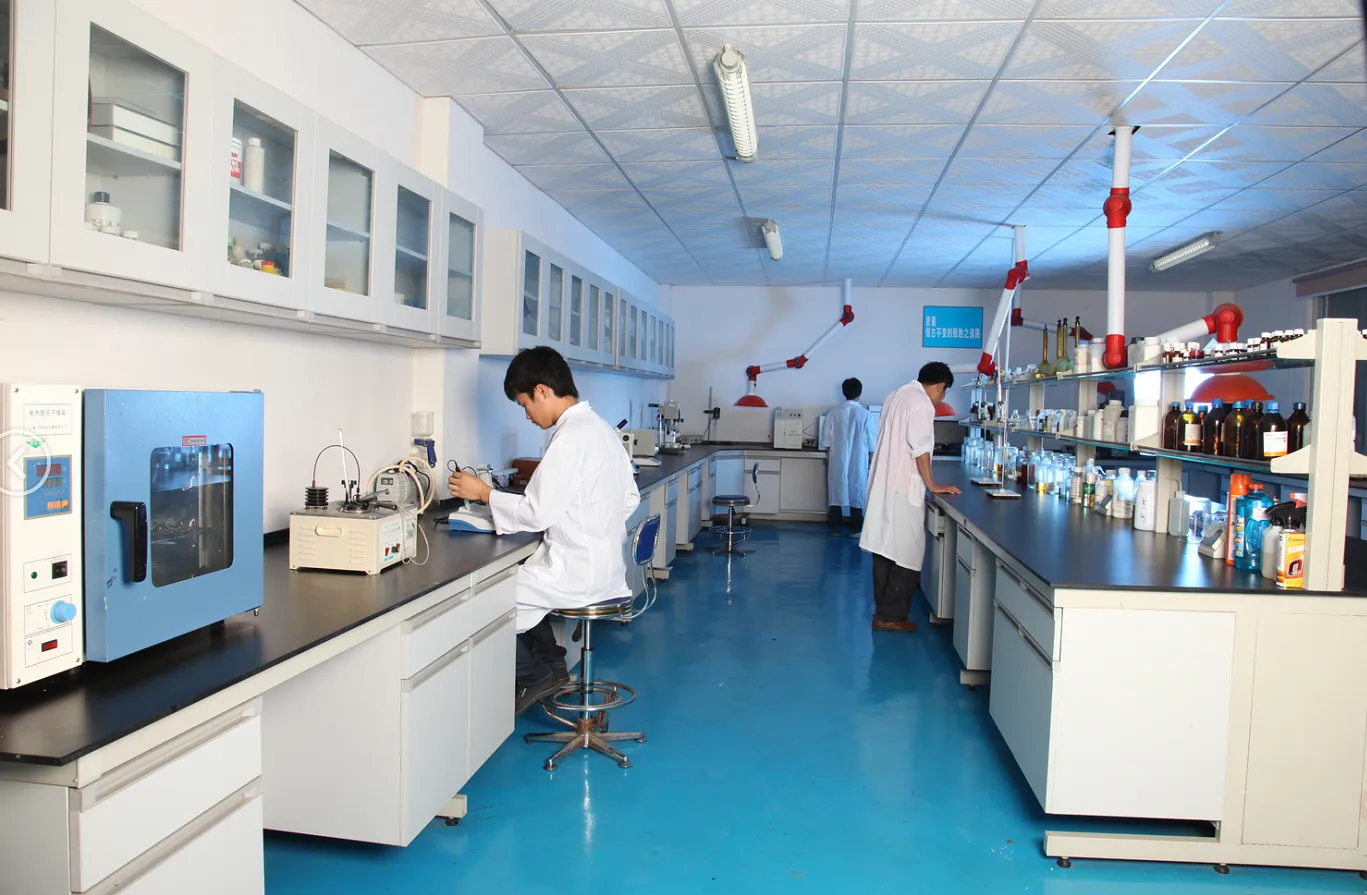 Guangzhou Helioson Car Care Co., Ltd. is a strategic partner of 4-X Company, a famous enterprise based in the USA and a professional refined and high-tech chemical industrial company, engaged in research, manufacture, sale and service. Our company was founded in 2008 when the Olympic Games was held in Beijing, situated in a beautiful place - Conghua, with the current area of nearly 10,000 square meters of modern buildings, equipped with a lot of advanced experimental and production equipment specially designed and introduced from top plants in Switzerland and China, such as professional equipment of emulsification and ultra-pure water treatment centers, with an annual production capacity of 45 million cans as well as a warehouse storage capacity of 2,500 tons for raw materials and finished products. Since establishment, our company has been taking the technology as core, innovation as our greatest impetus in compliance with the market operation norms, committed to building a powerful and advanced R&D center and a harmonious enterprise image so as to realize the social responsibility of our enterprise. Owing to our specialization, humanized management, excellent service and good business reputation, our company has made brilliant performance in the field and our prominent status is continuously protruding with the popularization of three brands of"GETSUN", 4-X and CARE as well as the complete range of more than 200 different items.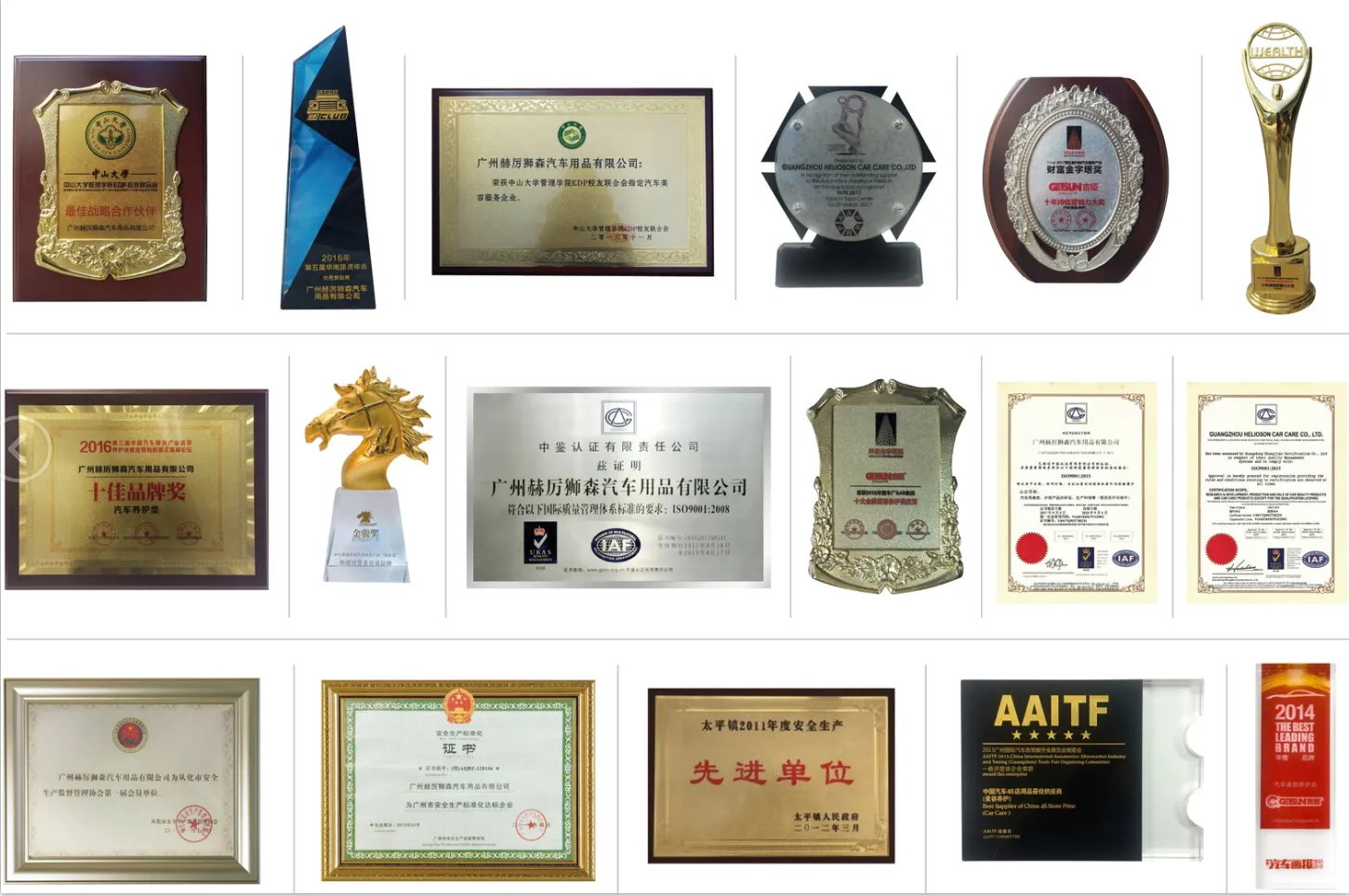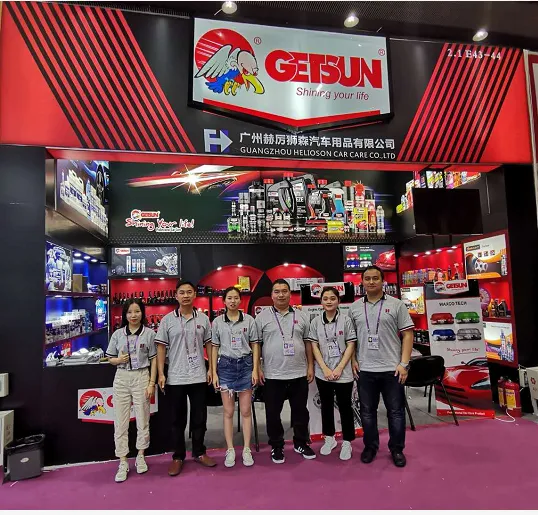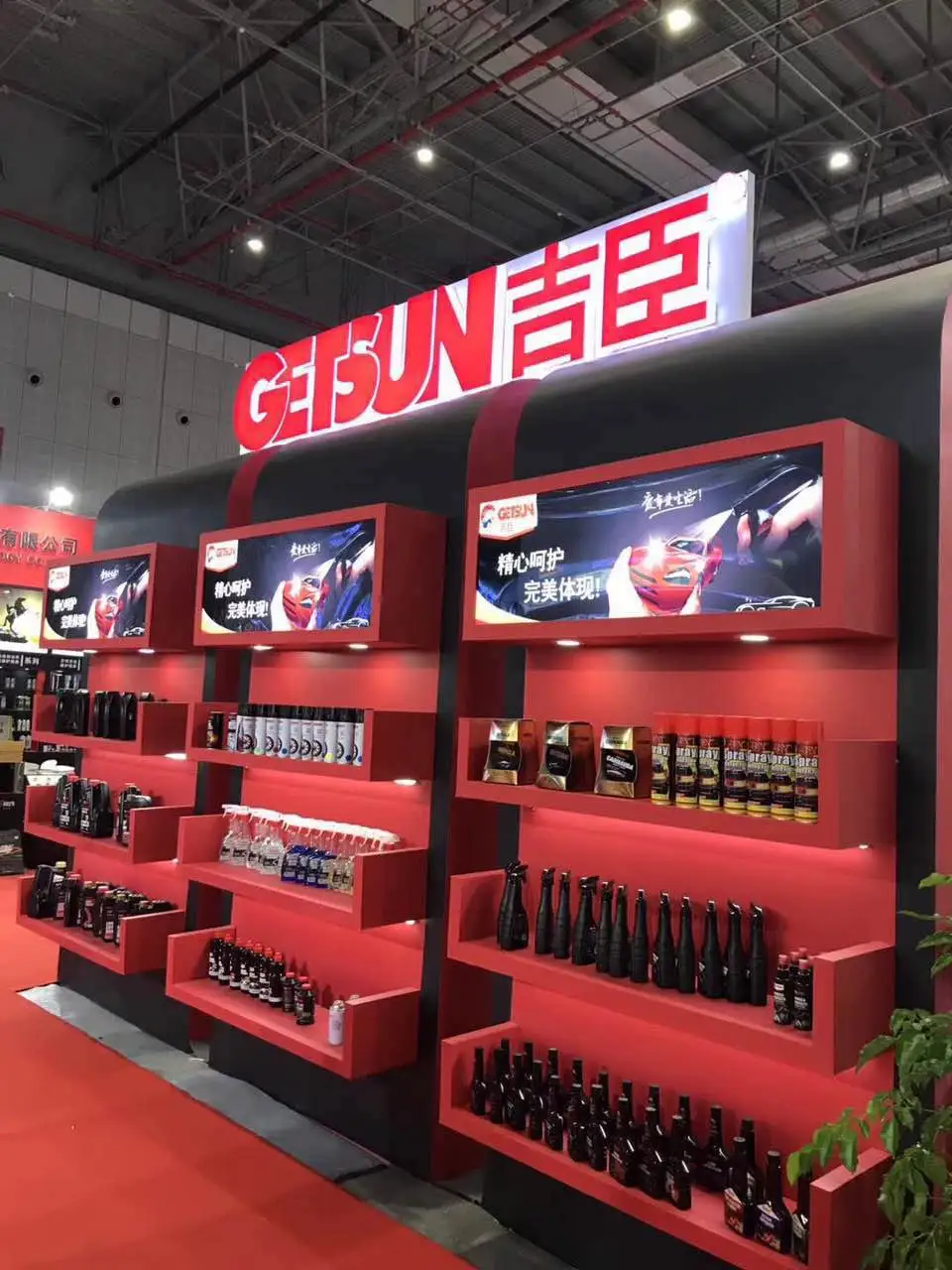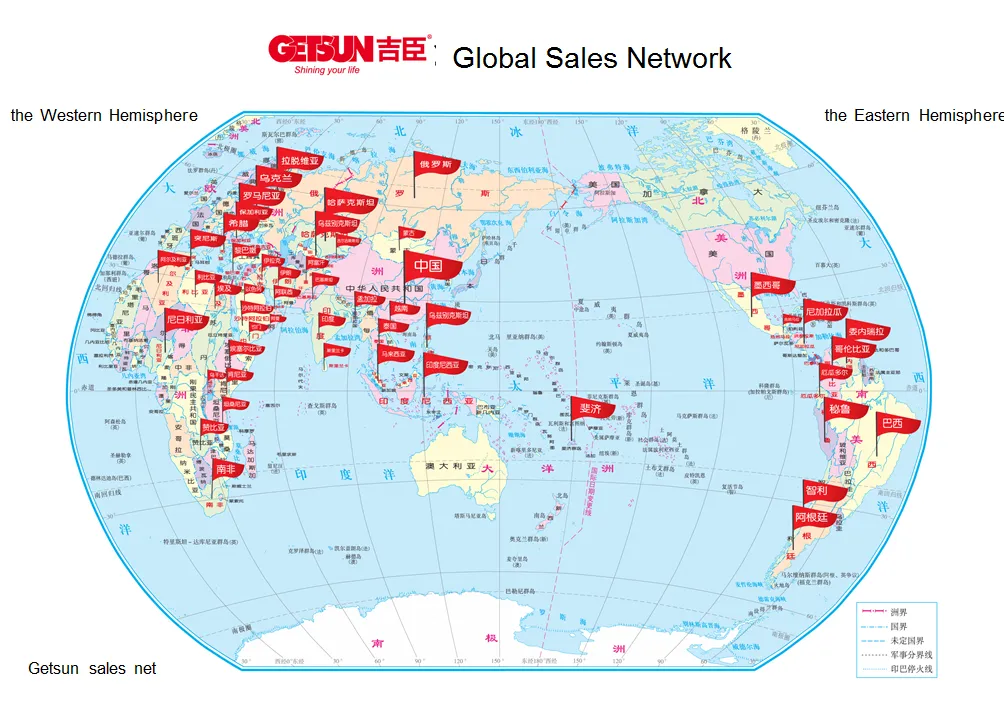 1. who are we?We are based in Guangdong, China, start from 2011,sell to Eastern Asia(16.67%),Africa(16.67%),Eastern Europe(16.67%),South America(16.67%),Mid East(16.32%),Central America(10.00%),South Asia(7.00%). There are total about 101-200 people in our office.2. how can we guarantee quality?Always a pre-production sample before mass production;Always final Inspection before shipment;3.what can you buy from us?car car produce pruduce,spray paint,dashboard polish,tire care,foam cleaner4. why should you buy from us not from other suppliers?Owing to its specialized concept,humanized management,excellent sevice and good business reputation.Three brands of GETSUN,4-X,and CARE as well the complete range of more than 200 different items.5. what services can we provide?Accepted Delivery Terms: FOB,CIF,Express Delivery;Accepted Payment Currency:USD,EUR,GBP,CNY;Accepted Payment Type: T/T,L/C,MoneyGram,Western Union;Language Spoken:English